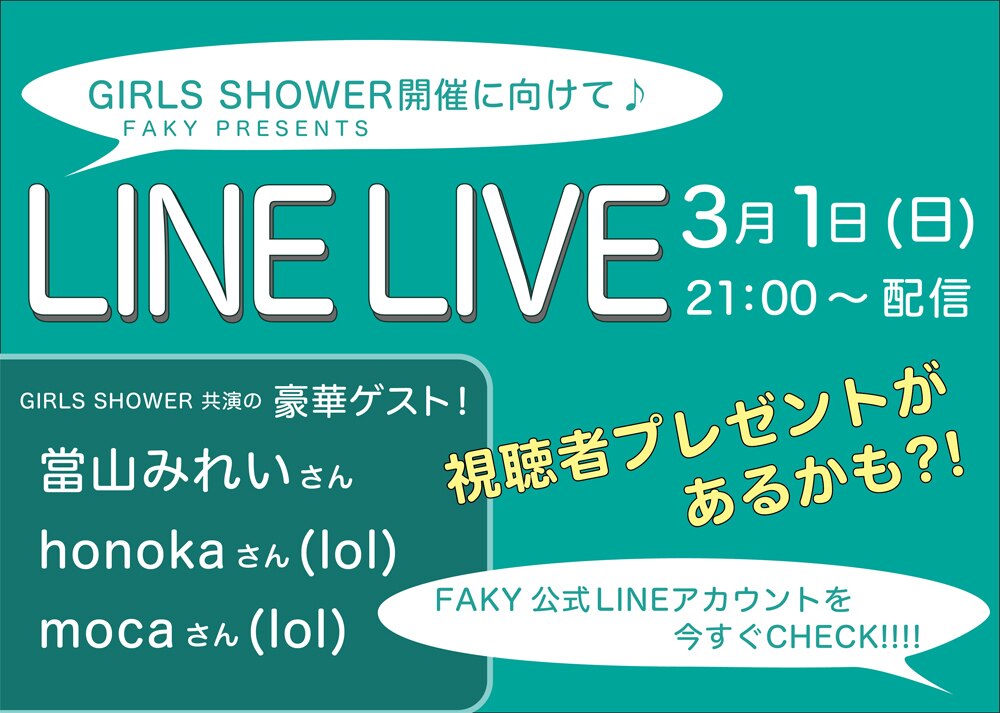 FAKYが出演する『GIRLS SHOWER』をもっともっと盛り上げるべく、豪華なゲストをお迎えして3月1日(木)にLINE LIVEを配信します!
女性アーティストが集まる素敵なイベントをより楽しめるコンテンツになっていますので、ぜひご覧ください♪
こちらも合わせてチェックしてみてくださいね♪
▼FAKYのLINE LIVEで配信しますので、FAKY LINE公式アカウントを友だち加えてくださいね♪
https://line.me/ti/p/%40faky
■配信時間 : 2018年3月1日(木)21時00分より【特別コンテンツ】
■ゲスト : 當山みれいさん、honokaさん (lol (エルオーエル))、mocaさん (lol (エルオーエル))
To cerebrate that "GIRLS SHOWER" will be held on Mar. 4th, we will broadcast a LINE LIVE on Mar. 1st with specail guests!
We will talk with Mirei Toyama, honoka (from lol) and moca (from lol)!!
Check it out♪
▼As the LINE LIVE will be broadcast on FAKY's Official LINE account, check the link and add us to your "friend"!
https://line.me/ti/p/%40faky
■Time : From Mar. 1st 9:00 p.m.
■Guests : Mirei Toyama, honoka (from lol), moca (from lol)